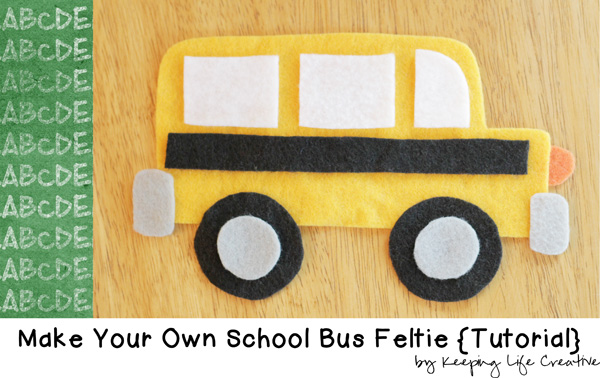 A few months back my totally-on-top-of-things-newlywed sister messaged and said, "I love your printable felties, but I want you to teach me how to make the real thing so I can get a head start on a set for my future kids."
I loved the idea of sitting and crafting felt sets together, but we live almost 2,000 miles apart– so "teaching" the craft wasn't in our near future. This conversation got my mind going though, and after putting out interest feelers during an impromptu survey on Facebook–and receiving an enthusiastic response–I thought I'd share a little creative process as we make this fun little school bus feltie.
(Little trade secret–typically when I sit down to create I'll freehand a sketch or just freehand cut with my scissors to create the shapes. But, to make this tutorial process easier, I created a template pattern for you!)
Supplies You'll Need:
Scissors
Colored felt scraps
Scissors
Hot glue gun (or fabric glue)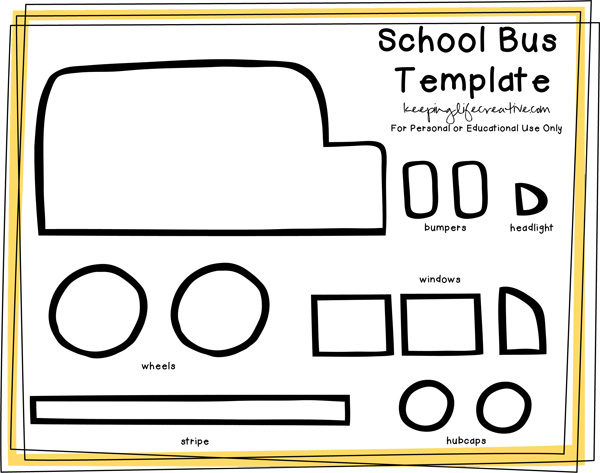 1. Download and Print Template
Download and print the template, and gather scraps of felt for your project.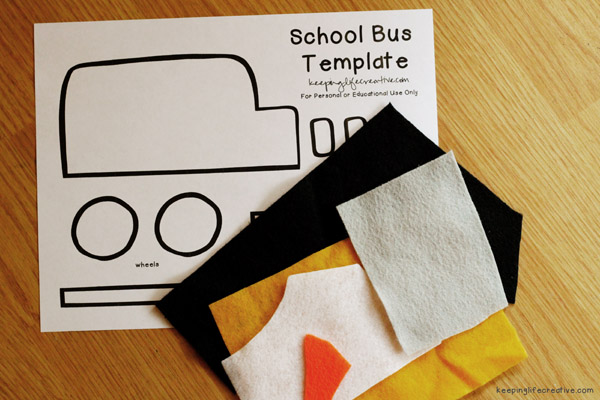 2. Cut Out Felt Shapes
Lay the pattern on your felt, and cut the shapes from the pattern.

3. Glue
It's kind of a sneaky shortcut, but my adhesive best friend is the hot glue gun. Obviously be careful, especially if you're crafting with kiddos (in this case, you may want to go with a fabric glue).

You could also adhere your pieces by hand stitching with thread or embroidery floss to add a whimsical, handmade feel to your pieces.
A few other ideas for using the school bus template:
Assemble buses of all colors!
Use as a fun prop for singing "The Wheels on the Bus" with the kiddos
Play with on the flannel board
Make a paper-pieced bus using your favorite card stock
Place as a gift topper (extra fun for a teacher or favorite bus driver!)
Decorate a bulletin board
Paint with tempera paint (or color with crayons) for a fun cut-and-paste kids' art project (like this)

And now, will you do me a little favor? If you like the idea of downloadable templates for creating your own felties and would like to see more of these, would you let me know by leaving a comment, pinning, and/or sharing on Facebook? It helps me know which direction to take, and where to focus my creation time. Thank you!!