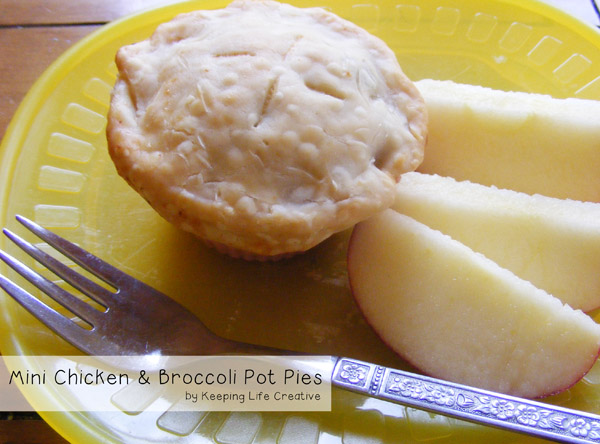 To go with our Three Little Kittens theme we made mini pies–apple crumble for dessert, and chicken broccoli for dinner. Thanks to pantry ingredients, this is a simple recipe and quick enough for a kid-friendly lunch, or busy weeknight dinner.
Mini Chicken Broccoli Pot Pies
1 package (2 crusts) refrigerated pie dough
1 can Progresso Creamy Roasted Garlic Recipe Starters
1 1/2 cups cooked and chopped chicken
1 cup chopped broccoli florets (or frozen mixed veggies)
Roll out one pie crust dough and use a cookie cutter or rim of a cup to cut 12 circles (approx. 2-3 inches). Spray regular-size muffin cups with cooking spray and lightly press a circle of dough into each cup. (I use and love these silicone muffin cups.)
Chop chicken and broccoli into bite-size pieces and place in bowl. Add can of Progresso Garlic Recipe Starters and mix to coat. Fill each crust-lined muffin cup with chicken mixture.
Roll out second pie crust dough and use cookie cutter or rim of a cup to cut 12 more circles. Place a dough circle on top of each filled muffin cup. Press edges of dough together with fingers or fork, to seal. Use a paring knife to cut a slit in the top of each mini pie.
Bake at 400F for 20-22 minutes, or until crust is golden brown. Cool slightly before serving.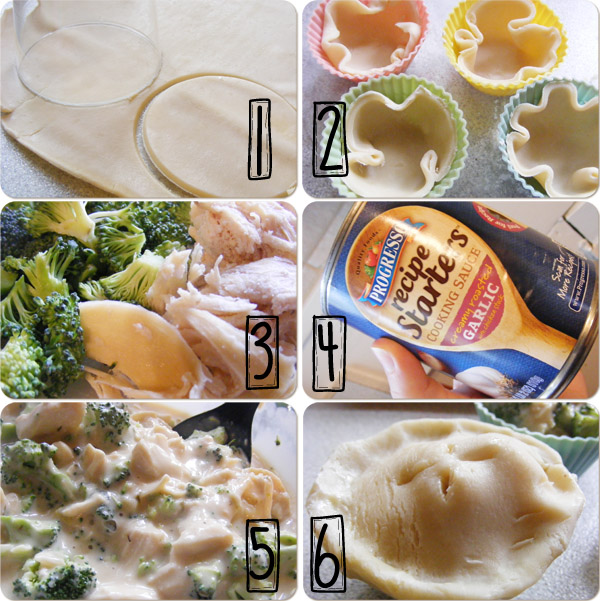 To freeze: Bake as above. Allow to cool, remove from muffin cups. Place on a cookie sheet or plate and flash freeze. Once frozen, place mini pies in a freezer bag and seal tightly. To serve, remove from freezer and microwave 1-2 minutes or until heated through.
*This post is sponsored by Progresso Recipe Starters and My Blog Spark. Recipe, photos, and ideas are my own.