This is part of the series "Reasons to Digital Scrapbook."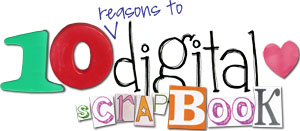 My kids LOVE looking at their scrapbooks.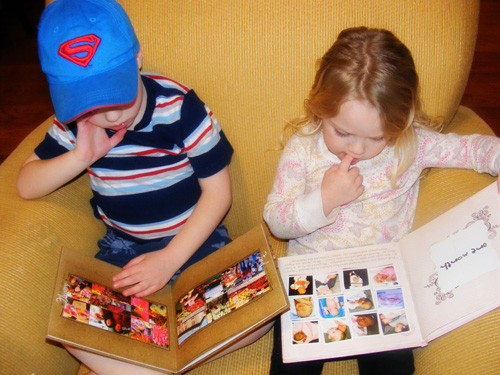 My preferred method (so far) has been to print my completed layouts in easy-to-handle 8×8 hardbound books. I keep these books easily accessible on the coffee table or bookshelf so anyone can read them whenever they want.
And they do!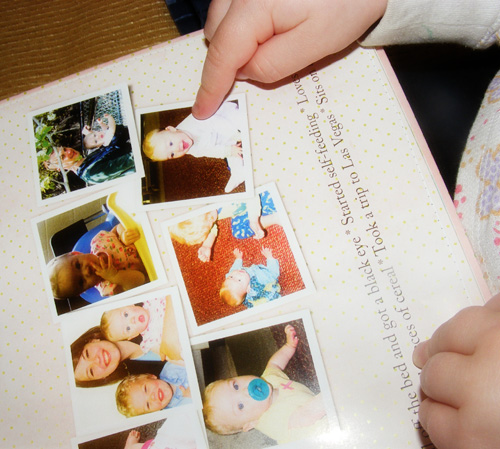 (I even find their books tucked in bed with them sometimes!)
I want my kids to be able to easily access the photos and stories about their childhood. It's so fun to watch Emmy look at her baby pictures and "remember" when she "was little." And Ryan loves to read the stories.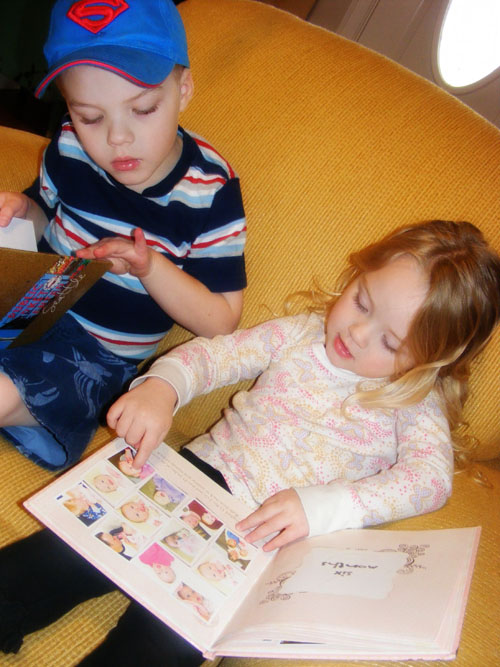 Even Seri loves looking at the pictures and recognizing faces.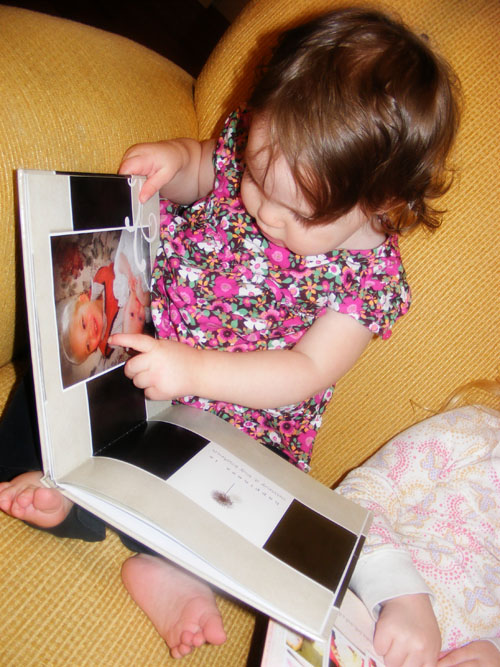 Digital scrapbooking makes sharing these memories so easy. I don't have to plan a special time to get out the scrapbooks and them sit with them worry about the page protectors getting bent or the expensive embellishments falling off the page. And I certainly don't worry about how much my favorite patterned paper cost and how it's getting smudged with sticky fingers. So what if the corners of the pages begin to get a bit tattered? It means the books have been loved. And that's more important to me.
When the kids are older or when I'm ready for a nice copy of the books to keep for myself, as long as I've saved my pages in a safe place, I can just reprint.
Digital scrapbooking is also easy to share online with my family and friends. I do it all the time here on the blog. I frequently post pages to Facebook, online scrapbook galleries, e-mail as well. Since the layouts are already on the computer I don't have to worry about scanning them or taking photos of the layouts. I can just upload and we're good to go!
The ability to easily share my scrapbooked stories with my kids and online friends is just one more reason I love digital.