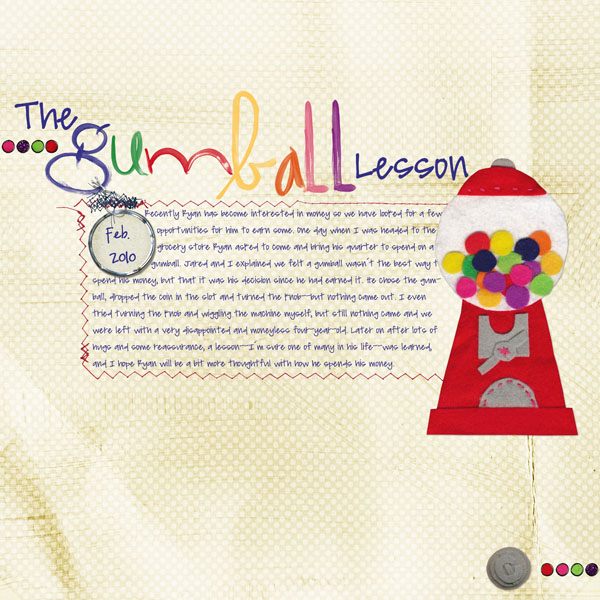 Recently Ryan has become interested in money so we've looked for a few opportunities for him to earn some. One day when I was headed to the grocery store he asked to come and bring his quarter to spend on a gumball. Jared and I explained we felt a gumball wasn't the best way to spend his money, but that it was his decision since he had earned it.
He chose the gumball, dropped the coin in the slot and turned the knob–but nothing came out. I even tried turning the knob and wiggling the machine myself, but still nothing came and we were left with a very disappointed and moneyless four-year-old.
Later on after lots of hugs and some reassurance, a lesson–I'm sure one of many in his life–was learned, and I hope Ryan will be a bit more thoughtful with how he spends his money. (Journaling from February 2010)

Looking for a unique element to add to your digital scrapbook pages, or to use as clip art? Wondering what "felt clip art" is all about?
This adorable gumball machine freebie, available as a digital PNG feltie as well as a black and white PNG line art is the perfect graphic and is for personal or limited commercial use (terms of use included in download).