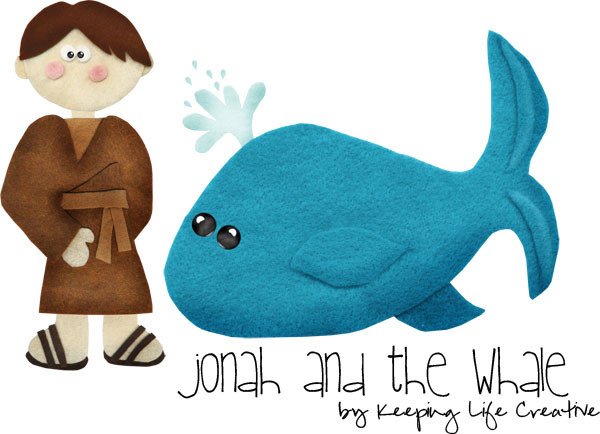 Since we were talking about whales during science, we included the retelling of the Bible story of Jonah and the Whale in our lesson plans. It's definitely one of my kids' favorite scripture stories–they think it's fascinating that Jonah was swallowed by a whale, and still live to tell about it!
One of our most memorable family home evenings happened a few years ago–our oldest ones were about 3 and 1–and we had the "lesson" in the bathtub with a reenactment of the scripture account using Little People figures, and a large plastic whale. I think their favorite part might have been having permission to splash in the tub as we recreated the "storm." For weeks after they wanted to haul their Little People to the tub and "play" Jonah every time they took a bath!

This next felt story set in the Bible series is, of course, the story of Jonah avoiding the city of Nineveh and being swallowed by a whale. And I have to say, I'm pretty excited about the way the felt set turned out! I hope you will print and enjoy using it too.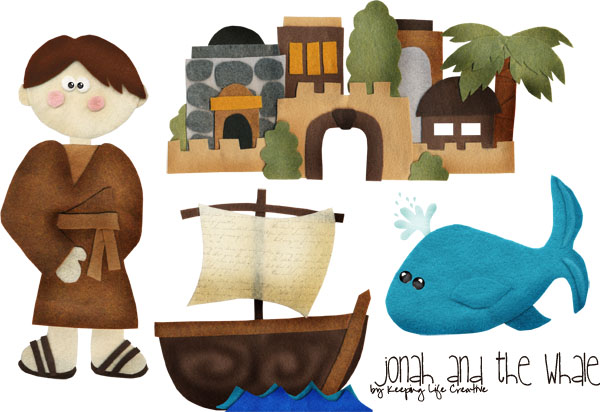 A FEW IDEAS FOR USING THESE PRINTABLES:
Print on t-shirt transfer paper, iron onto sheets of felt, cut out, and use on a flannel board. (TUTORIAL)
Print on cardstock, laminate, cut out, and place a magnet on the back. Use on the fridge, magnet board, or metal cookie sheet. (TUTORIAL)
Print on cardstock, laminate, and glue to popsicle sticks for stick puppets.
Print on cardstock, laminate, place a piece of rough velcro on the back. Stick to a flannel board.
Make a file folder game.

And now I have a small request from YOU. If you like these free scripture story printables, and would like them to keep coming, will you let me know by sharing this page with your friends?