On Christmas morning last year Jared gave me this: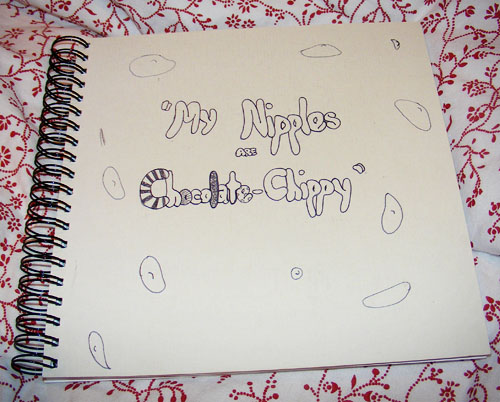 And I laughed so hard I almost peed.
But in all seriousness, it was one of the best gifts I've ever received because of  the thought he put into it. He gave me the blank book with a lovely doodled cover to serve as a journal to jot down everyday kinds of notes, observations, and conversations I have with my kids.
Although I LOVE scrapbooking, let's face it–I'm a busy mom of three little ones and creating pages is a luxury most days. BUT, when I do get that time to sit and create, I already have the notes, dates, or even completed journaling for my pages. 'Cause a page without journaling just doesn't do it for me. I want the story behind the photos because I know I'll forget it later. 
When I was a baby my mom kept a spiral-bound notebook of journaling about me. The entries waned as I got a bit older and my younger siblings were born, but I'm so grateful she took the time she did to write little bits about my baby and early childhood. I have chosen to follow her example through my scrapbooking and I hope my kids will treasure the stories of their childhoods as well. 
Oh, the nipples are chocolate chippy thing? That's an observation our then three-year-old son made one day when he was learning to dress himself. It's one of those family inside jokes we laugh about. And a good way to remember that little phrases like these are gems I want to write down and remember forever. :)