My friend has something against "casseroles," so we call this one a "mixed dinner" and she's good :). This "mixed dinner" is super simple and comforting–the one my mom used to make.
The ingredients: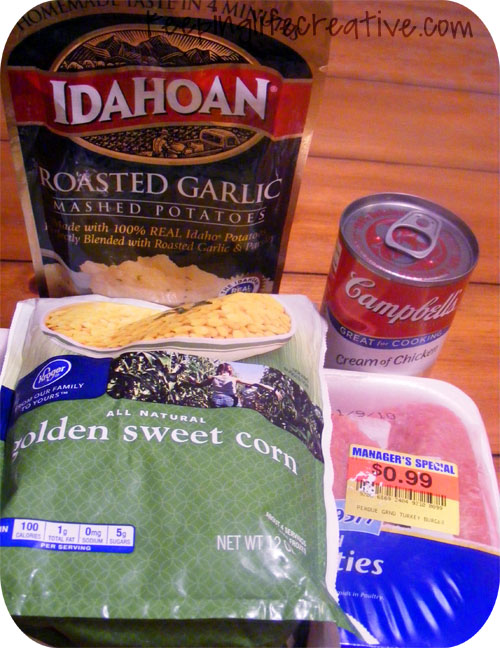 Shepherd's Pie
1 lb. ground beef or turkey
1 can cream of chicken or mushroom soup
1 bag frozen veggies (can use canned too, liquid drained)
1 pkg. instant mashed potatoes
salt, pepper, garlic powder, onion powder (or seasonings of your choice)
Brown meat and drain fat. Mix in soup, and season with salt, pepper, garlic power, and/or onion powder or other seasonings to taste. Layer meat mixture in the bottom of an 8×8 dish. Top with veggies. Prepare mashed potatoes according to package directions. Spoon potatoes on top of veggies. Bake at 350F for 20-3o minutes or until heated through and top of potatoes are slightly golden brown. Serves 4-6.
*Note: This is a good meal to sneak some extra veggies if if desired. I added some squash puree to the mashed potatoes, and no one knew. ;) Pureed cauliflower also easily hides  in mashed potatoes.*
**Another Note: This mixed dinner freezes well too. Last weekend some friends and I got together and put together 22 meals in just a few hours! This was one I made. To freeze, cover tightly with foil. The day you want to eat, take out of the freezer and allow to thaw, then bake as above.** 
Here is the breakdown of the cost of my meal (shopping at Kroger).
Ground Turkey (manager's special marked to $0.99/lb)
Cream of Chicken Soup (stocked up for $0.09/can last week)
Bag of veggies (sale price $0.88)
Mashed potatoes (got mine FREE a while back, but this week you can get them for $0.20 with coupon)
Added a green salad (manager's specials

):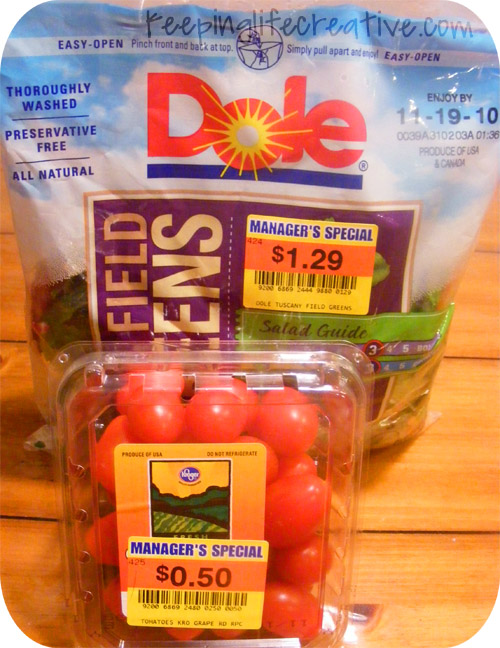 Total for our meal: $3.75
For more bargain meals, be sure to check out $5 Dinners.