Last week we moved from animal science to learning about the human body, starting with a day "all about me" where we created some oil pastel self-portraits.
I know I'm totally bias as their mom, but I love the way these brilliant colored pieces turned out, and am anxious to include them on the walls of our school room, and eventually in our school albums.
To create our portraits, I had the kids start with a black pastel. I've noticed when they use pencils they draw much smaller, and I wanted these portraits to fill the papers. In fact, to encourage large faces I gave the kids a cardstock-cut oval shape to trace around. After tracing the oval black pastel they drew in the facial features (also in black) before adding other colors.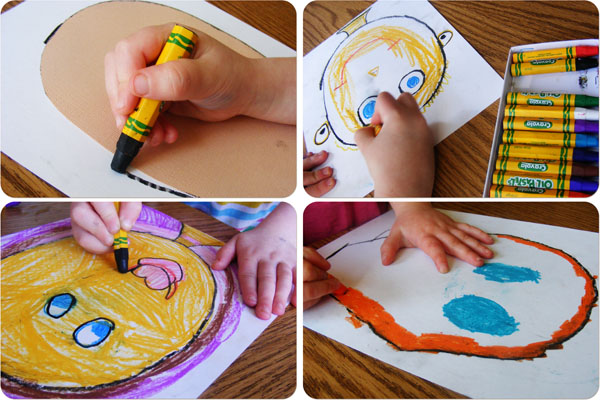 The oil pastels are messy and we only pull them out occasionally, but the upside to being messy is that they easily smudge to fill in the white space little hands may have missed.

For more fun projects to do with kids, you may want to check out the visually categorized DIY Project page.