We've been learning about lots of different animals, and penguins are fun to talk about during the winter. When introducing a new subject (in this case animal), we usually have a little chat about what we already know and what we wonder, and then I write the information and questions on sticky notes and categorize them on our board.
During our intro to penguins we talked about how we know they live in one of the coldest places in the world (Antarctica), and so we wondered, "do penguins get cold?"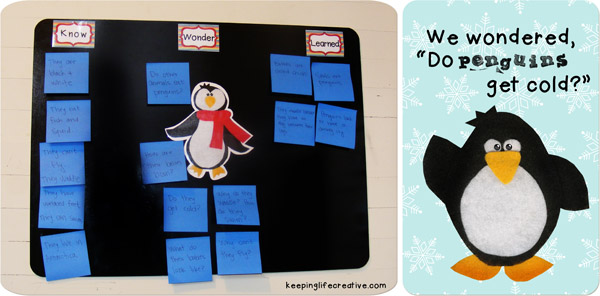 Upon further investigation we discovered, no, penguins stay warm–even in the coldest place in the world–because they have blubber. So to illustrate this fact we did an experiment with ice water and a "blubber mitten."
How to Make a Blubber Mitten
Supplies Needed:
Vegetable shortening
Two sandwich- or quart-size bags
Duct tape
Container of ice water (colder, the better!)
First, fill a zip-top bag with a big scoop of shortening (Crisco).
Then place another bag inside the shortening. (This is where your hand will go to keep it clean.)
Fold together the top of the bags and tape to seal (so the shortening doesn't ooze out.)
Squish the shortening around to create an even(ish) layer of "blubber" around the bag.
The Blubber Mitten Experiment
Fill a bowl with some cold water, and add lots of ice–so it's really cold. Let the kids test the temperature of the water with their bare hands.
Next, have them dry their hands and place them inside the "blubber mitten."
Place the bag-covered hand in the ice water.
The shortening (fat) acts as an insulator and helps keep their hand from freezing in the ice water.
Many other cold-climate animals (like polar bears), whales, and walruses also have blubber to keep them warm, so this fun "hands on" blubber glove experiment can be done during a variety of animal studies!
To sum up our penguin learning, a Penguin Printable Craft Project seemed in order. This template can be found at Teachers Pay Teachers or in the Craft Template ARCHIVE along with many more free craftivity templates available to subscribers. Simply add your email to the list and check your e-mail to receive the link to download the penguin printable craft template.
Now, raise your hand if you're like me and think you could live without a bit of your extra blubber ;).